The exciting path ahead
04 Jul 2023
---
Hey, fellow Serania adventurers! I wanted to take a moment to share some exciting news about the roadmap for the Serania franchise.
While things may have seemed quiet recently, rest assured that I've been hard at work, even if at a slightly slower pace than anticipated. Life has a way of throwing unexpected challenges our way, but progress on Serania continues, and I'm excited to share an optimistic outlook for what lies ahead.

Since Serania - Path of the Scion was released on mobile platforms, my work has been centered on creating a new and improved story engine, packed with exciting features. I wanted the new engine to expand onto the desktop platform, making this a core part of its design.
I'm happy to tell that the new engine is now ready. It allows me to weave together a world filled with intriguing characters, complex choices, battles and epic quests across navigatable maps - on all platforms.
Initially my sights were set to create Serania 2 using this new engine. But wait, what about the PC and Mac players? Shouldn't they be able to play the first game Serania - Path of the Scion?
Of course! That's why I've made the big decision to bring the original Serania - Path of the Scion to the PC and Mac platforms through Steam and Itch.io! This migration involves an extensive overhaul of the original mobile game, aligning it with the new engine. This means adding maps, introducing hundreds of stunning illustrations, and an expanded and enhanced story with more paths to explore.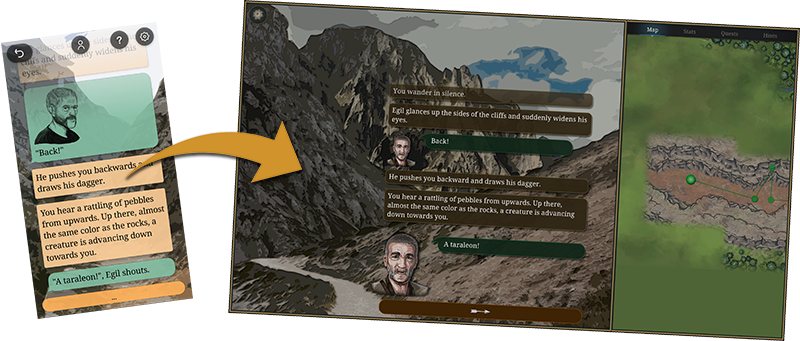 So, here's the roadmap that lies ahead:
Development and release of Serania - Path of the Scion on PC and Mac: Get ready to embark on the adventure, this time on your beloved PCs and Macs. Experience the magic of Serania in a whole new light, with improved visuals, expanded lore, and enhanced gameplay features.

Release of the enhanced Serania - Path of the Scion on mobile: Following the Steam release, a free major update will be rolled out for the mobile version of Serania - Path of the Scion. This update will bring all the enhancements from the desktop version to your fingertips, ensuring a consistent and incredible experience across platforms.

Development and release of Serania 2 - Path of the Ranger: Finally, the anticipated sequel! Serania 2 will take you on a brand-new adventure, filled with explorations, challenges, battles and NPCs, and an even deeper connection to the world of Serania, bringing you to events both before and after the events of Serania 1. Prepare to embrace the role of the Ranger and uncover a growing major threat to the realm.
I want to express my heartfelt gratitude for your unwavering support and understanding. As a solo indie developer, Serania is a passion project close to my heart, and I'm committed to delivering a game that you will enjoy playing.
All the best,
Peter, FableTree Productions
Read more about the PC and Mac version of Serania here. Wishlist below.